2023 Old Town Art Fair – Chicago
ARTISTS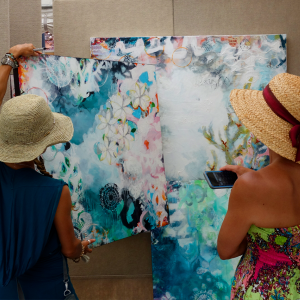 Get to know the 200+ nationally acclaimed artists selected for the Old Town Art Fair in Chicago! Artists often name this as their favorite event of the year in large part because the Old Town Art Fair crowd is known for their love of art, curiosity and friendliness. Hear what they have to say.
Click here to visit our Artist Gallery.

Along the streets of the Old Town Triangle Historic District, you'll find an inspiring collection of 2D and 3D Fine Art including Mixed Media, Drawings, Paintings, Photography, Printmaking, Ceramics, Glass, Fiber, Jewelry and works in Metal, Stone and Wood. The Old Town Art Fair features Fine Art – exclusively – and allows only original pieces created by the artists themselves. Reproductions and crafts, among other things, are not permitted.
Here to search the 2023 Artist Index with the booth numbers of your favorite Artists.
Artists from across the U.S. and Canada are selected by an independent jury of art professionals. Nearly half of the artists are newly juried in each year, providing an opportunity for different artists to exhibit at this highly sought after event. This system allows for a rich mix of returning favorites and fresh, new art to discover!
BEST IN SHOW:
Congratulations to the 2023 Award Winners!
Drawing/Pastel, Painting, Printmaking
>Melissa Helene Bossenbroek, Best in Show
>Matthew Rucker, Second Place
Photography, Digital Art, 2D Mixed Media
> Derek Nielsen, Best in Show
>Woody Patterson, Second Place
Ceramics, Fiber, Glass, Stone, Wood
> Thomas Tyers, Best in Show
>Mark Sudduth, Second Place
Jewelry, Sculpture, 3D Mixed Media
>Jonathan Rutledge, Best in Show
>Kristine Bolhuis, Second Place